Ji-hwan Jung | 2006 | Animation | DV | B&W, Color | 8min 50sec
TIME TABLE
SYNOPSIS
The miserable novelist, T wanted to be an exceptional writer. However, because his writing ability was poor, he couldn't be such a greatman. For this reason, he was always stressful and depressed. Oneday he watched an impressive commercial film about 'Camble Can Soup' which could make someone to genious person. After watching this commercial film, he went to the can factory to purchase that soup. And he ate 'Camble Brain Soup' to be the splendid writer.
DIRECTING INTENTION
1. Iwanted to show an idea that the talent developed by a false way is worse than inability, presenting the process that an
obsession withsuccess of an untalented artist ends up with a collapse.
2. I tried a pop art experiment in terms of design, with drawing images of parody such as the images of Campbell cans by
Andy Warhol.
FESTIVAL & AWARDS
2006 서울 넷 페스티벌
2006 부천 영상제 우수상
2006 PISAF
2006 네덜란드 암스테르담 필름 익스페리언스
DIRECTOR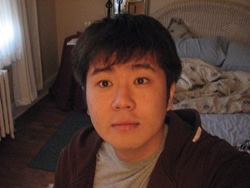 STAFF
Director Ji-hwan Jung, Hyun-ju Hwang
Production 성균관대학교 영상학과
Producer Jun-hee Lee
Screen Writer Ji-hwan Jung, Hyun-ju Hwang
Cinematographer Dong-su Kim
Editor Jung-kook Ryu
Lighting Ji-hwan Jung
Art Director Ji-hwan Jung, Ji-in An
Sound So-young Lee
Cast Kang-san Kim, Seung-gon Ryu, Sun-young Kim