Main Slogan
"New Challenges for Korean Cinema"
The Seoul Independent Film Festival, as a venue to support independent films which expand the potential of Korean cinema, selects its main slogan, 'New Challenges for Korean Cinema.' This was also the initial slogan that in 1999, the Korean Film Council and the Association of Korean Independent Film & Video chose together with the aim of the festival's willingness to change, which is still effective. Independent films are expanding their future through various practices and aesthetic experiments, after they went through high tensions of Korean film movements. Along with the Seoul Independent Film Festival, new challenges for Korean films continue today.
SIFF2022 Slogan
"The Art of Love"
There was a time when we sought for love.
The moment we respond to a small signal from love,
the film can be said to be love and not love.
The time that everyone has been waiting for a signal,
the old ways are about to announce a new end.
We were united by the pandemic, but
at the same time, we were scattered.
Nevertheless, the signals of time, difference, repetition, struggle,
and sadness that the film created
now become the art of love, which
finally reaches us more completely.
The art of love
is a greeting and conversation
that we give to each other living different times and directions.
Sometimes, it is a desperate effort to convey experiences and
a bold tool to take off the mask.
When we become able to understand each other,
the film becomes the most specific art of love.
What kind of art of love does a film have for you?
Which secrets and promises did you find
through the codes and icons in the film?
In an era so dark that each other's messages cannot be reached,
the film is sending you new signals again today
for tomorrow.
BACK TO BACK,
we would like to go on the way to
find the art of love in the film with you.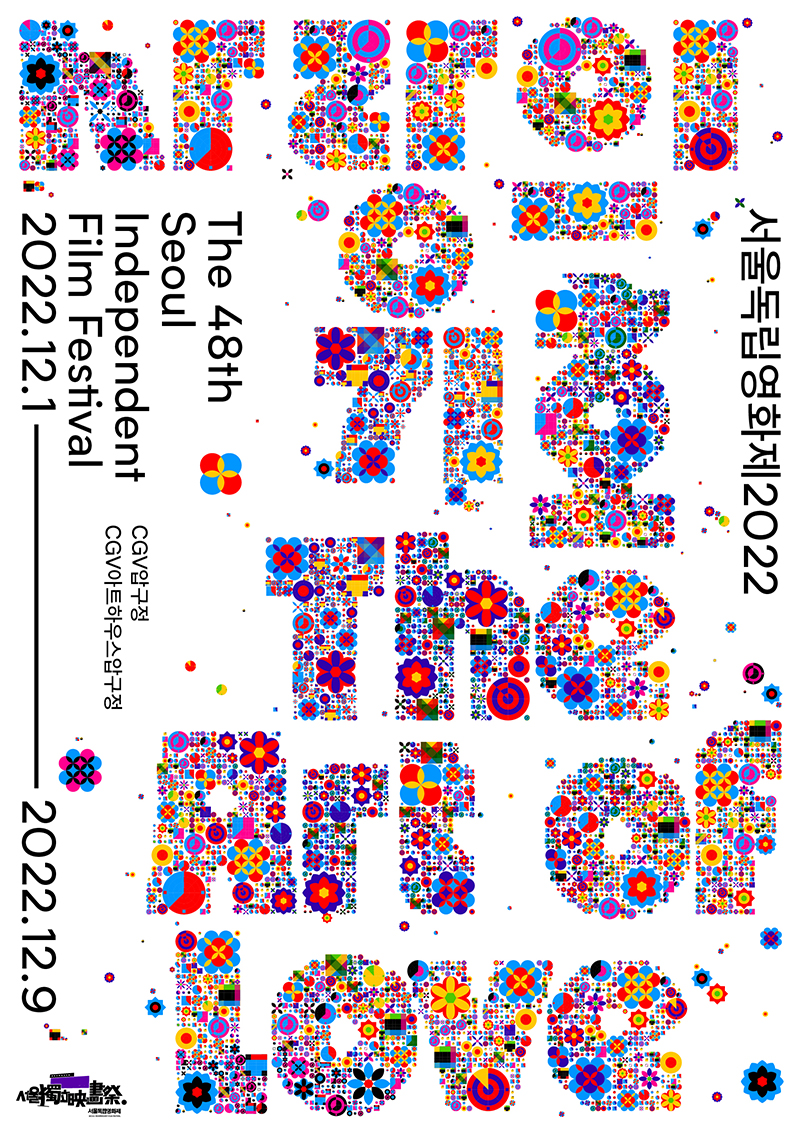 Through the slogan for this year, we try to convey 'The Art of Love' steadily sent from films for a better tomorrow in spite of the harsh times in the pandemic situation. The poster expresses communication, change and growth combining cinematic expression and various forms of love. We hope all the independent films have a voice with 'the Art of Love' made in films.
DESIGN. EVERYDAY PRACTICE
C 64 M 62 Y 36 K 0
R 117 G 105 B 134
C 73 M 72 Y 99 K 54
R 55 G 46 B 21
Symbol & Concept
The irregular image illustrates the distinct energy of Independent films and the festival. The film symbol intuitively shows the media itself. As the last independent film festival in the year, the sign of full stop expresses our main role in embracing Korean independent films of the year.