Days of Construction Worker
2012
Short 5
Neulsaem | 2012 | Documentary | Color | DV | 29min
TIME TABLE
SYNOPSIS
He is an indie film director. And he is a temporary worker, too. He works in a construction site through an internet employment agency. He works as an electric pipe worker, building up the Multifunctional Administrative City in Yeongi-gun. And he works as a formboard worker, building Hyundai Steel Mill.
DIRECTING INTENTION
The 23rd labor diary of a young worker who's wandering around his temporary jobs. A piece of the construction site.
FESTIVAL & AWARDS
DIRECTOR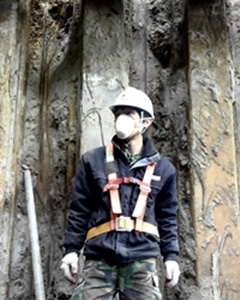 Neulsaem
Incomprehensible on the Road (2001, 22min 42sec)
Sun of Labor: Pain of Night Part-timer in Convenience Store (2009, 23min 19sec)
It Snows, and Rice Ripens (2010, 14min 17sec)
Maitreya Circus (2010, 23min 21sec)
Jesus of Seoul, Sister of Riverside (2010, 12min 43sec)
Life Stories of People in Yongsan (2011, 90min 10sec)
A Trip to South Korea - People of Life (2011, 138min) 
STAFF
Director Neulsaem
Cinematography Neulsaem
Editor Neulsaem
Cast KIM Jongsun, KANG Sungryul, JO Hyangrea, NO Taegyu, KIM Geunsoo, LEE Giljae, KIM Gwangjae, CHOI Gwangryul
PROGRAM NOTE
전작 <노동자의 태양: 편의점 야간 파트타이머의 고통>에서 구로 반지하방에서 시급을 조금이라도 더 받으려고 역삼동으로 출퇴근하던 편의점 노동자는, 이제 <32.5공수, 건설노동자의 날품>에서 인력 시장을 거쳐 연기군 세종시 건설 현장까지 진출한 일용직 건설노동자가 되었다.
노동 과정 속에 괴는 사유와 의지를 담는 다큐멘터리 작법은 여전하지만, 발랄하고 기민하게 소외의 감각을 표현하던 줌의 움직임과 스톱모션, 음악과 내레이션은 신중한 롱숏과 침묵이 함께하는 인서트, 과묵한 인터뷰와, 현장에서 만난 촌철살인의 말들을 담은 자막으로 바뀌었다.
노동 강도와 사고 위험이 높은 현장에서 만나는 사람들은 현장서 잔뼈가 굵은 숙련공, 식당을 하다 망한 뒤 자식을 키우기 위해 공사장으로 온 중년 남성부터, 기술을 배우기 위해 함께 부산에서 온 이십 대 세 친구까지 각양각색이다. 새벽 5시에 일어나 일하고 점심 식사 뒤 공사장 구석에서 양치질하고 동료들과 시간을 보내는 짬짬이, 제작자의 눈은 거대한 개발 계획 없이는 굴러가지 않는 토건 국가의 도식으로부터, 노동자들의 의식주, 현장 주변 유흥업소의 생태, 쓰고 벗어 둔 작업화와 목장갑에 이르기까지 놓치는 것이 없다. 이는 늘샘의 다른 전작들, 예컨대 용산 참사를 기록했던 <용산 철거민 구술사>, <눈이 오르고 밥이 익는다>, 여행하며 만났던 사람들의 초상 <남한기행-삶의 사람들>과도 통하는 방법론이다. 그는 자신의 몸을 카메라 삼아, 자신의 삶을 영화로 만들어 가고 있다.
신은실/서울독립영화제2012 예심위원